VUMC Supply Chain is responsible for general oversight of the Medical Center's vehicle fleet. This website will serve as an information resource for Medical Center departments which use vehicles on either a regular or occasional basis.
---
5/3/22
By Frank Ashe
You have probably all seen in the news that there is a vehicle shortage on. It seemed at first that this pertained only to computer chips and might resolve fairly quickly. It looks like now that's not the case. We have had a briefing from Enterprise, our main vehicle vendor, and they have told us that the issue is not just chips--there is some kind of difficulty in many things that go into vehicle production. This can be either in producing the parts, in the supply chain delivering them, or both.
Naturally, shortages mean price increases, and the general rate of inflation on top of that doesn't help. Enterprise estimates that we should expect about a 10% rise in vehicle prices going into the 2023 model year. They will get us all possible incentives when ordering from the manufacturer, but did warn that those are being cut back compared to previous years. In some cases it may be possible to order from dealer inventory, but those prices will be higher still, as dealer incentives have nearly vanished.
Enterprise is recommending extending leases on existing units where possible. They will work with us to get that done. This may also be necessary where a replacement has been ordered but delivery turns out to be seriously delayed. We can also consider purchasing the current vehicle at the end of the lease.
It should be noted that these problems are all industry-wide, and vehicles sourced from other vendors are likely to be similarly affected. The rental car industry is hitting these same constraints, so try to book early, and be aware you may not have much choice of vehicles.
Your Financial Manager will be happy to advise the best choice in your situation. If your department has any additional questions that needs to be addressed, you can reach out to the assigned Sourcing Officer for this commodity.
---
On January 4th, 2022, the Metro Council voted to eliminate vehicle emissions testing in Davidson County. The last testing was on February 4.
From now on, departments need not do anything to prepare for license plate renewals. Fleet Management will either renew these, or facilitate renewal by the leasing company as required. Departments will be notified to pick up renewals at the Post Office window, B-0106 MCN.
FYI - Other Tennessee counties that had previously required emissions checks have also ceased. There is no longer a testing requirement anywhere in the state.
\
ALSO PLEASE NOTE ON LICENSE RENEWALS
After you put the sticker on your plate, or put on your new place,
be sure to put the certificate of registration in your glove compartment
. You may need to be able to show the current copy later. This form is a white 8.5" x 4" piece of paper like this: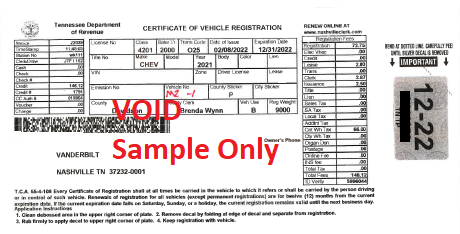 ---
SERVICE
VERY SMALL MAINTENANCE ITEMS
These can genrally be purchased with the Voyager Fuel card--see the end of the Gasoline section below.
VEHICLES LEASED FROM ENTERPRISE
These units come with provision for routine maintenance at no extra charge. You should have a maintenance card in your glove compartment. You can use Enterprise's service website to find a convenient authorized location here. Just present them the card when you arrive.
We very strongly encourage regular maintenance under this plan. It is a service we are already paying for and helps to maintain the resale value of the vehicle. Better resale saves us money at lease-end time!
VEHICLES OWNED OR LEASED FROM OTHER SOURCES
If you already have an established relationship with an off-campus service provider for your vehicle, you may continue to utilize it.
If you don't, you may access service using your Voyager gasoline card. See the end of the Gasoline section below.
---
GASOLINE
We recommend the Voyager Fuel Card program administered by VUMC Procurement. These cards are accepted at multiple locations, including the Mapco at 1507 21st Ave. S., which is convenient to the Medical Center.
If you would like to look into a new Voyager card, please contact the Payment Card team at VUMC Procurement. Please be prepared to furnish the following information:
Vehicle number (cards are tied to vehicles and not individuals);

Department name;

Account and center to charge;

Approximately how many times a day the card will be used;

Dollar limit per month for the card.
SMALL MAINTENANCE ITEMS - things such as washer fluid, wiper blades, etc., are generally available at places like Mapco, and can usually be purchased with the Voyager card.
LARGER MAINTENANCE ITEMS - For larger needs such as tires, oil changes, etc., the Voyager card may be used at many auto service establishments. Here is their locator page, which will allow you to search by zip code for merchants that accept the card and also see what services they offer. (Note--search only in the Fleet (Fuel) Card tab. We are not enrolled in the Voyager Maintenance Solution Program.)
---
Our preferred provider for rental vehicles is Enterprise Holdings, parent company of the National and Enterprise brands. In order to maximize savings and build future volume discount opportunities, Procurement asks that everyone please comply with the following when making car rental reservations.
Please make your reservations through the Concur website. (Keep in mind that like hotel and airfare expenses, rental cars must be paid for with a T&E card and not a p-card.)
Use the National brand whenever possible. The Enterprise brand is to be used only in circumstances when National is not a reasonable option, such as when travel does not require the renter to be at or in an airport.

Reserve only intermediate size (mid-size) vehicles during booking. Upon arrival you can then choose any car from the "Emerald Aisle". The "Emerald Aisle" is stocked with mid-size or larger vehicles when renting with National at airport locations.
If you would like on-campus pickup and dropoff, after making your reservation as shown above, please call our closest Enterprise location on Layfayette St. at (615) 254-6181 to make your request. Please call at least an hour beforehand.
Existing status with Hertz and/or Avis will be the same with National/Enterprise--VUMC customers will get "match" status. If you have any questions regarding your status with N/E contact the Enterprise rental contact below.

Note on mileage reimbursement vs renting: If you are traveling over 100 miles roundtrip, please rent a vehicle according to the instructions above. seme
---
ACQUISITIONS
Our usual preference in acquiring vehicles is to utilize our lease contract with Enterprise. This automatically enrolls the unit in the Enterprise maintenance plan (see Service section above) and saves us from buying an asset which will rapidly depreciate.
However, it is recognized that there may be cases of unusual circumstances and non-standard vehicles which may require other solutions. The Purchasing staff will be happy to work with you to identify the best alternative for your department.
The first step in acquiring a vehicle is to complete the Authorization to Acquire Vehicle form (MC 3673). Route it to the Purchasing contact shown at the bottom of the page.
DISPOSITIONS
Disposing of a vehicle depends upon how it was acquired. Most of our fleet is leased, and will simply be returned to the leasing company at contract's end. If we own the vehicle, there are other alternatives we may consider. Enterprise will accept vehicles to be sent to a public auction, and will remit us the auction price minus their processing fee. If the unit is being replaced by a newer one, a simple trade-in may be appropriate. Special-purpose or modified units may need special handling, and again, the Purchasing staff will be happy to consult with you to identify the best plan.
---
INSURANCE
This is coordinated by VUMC Risk Management under the new VUMC policy.
All vehicles should have updated insurance cards in their glove compartments showing the insured entity as VUMC and the effective dates running with our fiscal year, July 1 to June 30. If you need a new card, please contact the Fleet Manager below.
---
VEHICLE WASHING
VUMC currently does not have a washing program for vehicles. We will let you know when this changes.
FLEET MGMT.
PURCHASING AGENT
INSURANCE MANAGER
ENTERPRISE FLEET MGMT.
ENTERPRISE RENTALS
Frank Ashe,
ext. 3-253
Rochaundra Martin,
615-343-5264
(3-5264 on campus)
Mary Joe Louie,
ext. 6-2329
Tia Price,
(615) 309-9662

Donald E. Young,
(314) 512-5000
General questions
Purchase order questions
Insurance Questions
Questions on units leased from or serviced through Enterprise
Car Rental Questions
---