VUMC Supply Chain is responsible for general oversight of the Medical Center's vehicle fleet. This website will serve as an information resource for Medical Center departments which use vehicles on either a regular or occasional basis.
---
VUMC has contracted with Opus Inspection to provide emissions testing services on campus, using their mobile testing station. The on-campus mobile testing station is available for all Vanderbilt fleet vehicles. (Personal vehicles cannot be tested there.) Please note these operations have returned to normal after the vendor paused operations during the pandemic shutdown.
TESTING TIMES: The on-campus Opus Testing station will be open each Monday, from 9:00 a.m. to 12:00 noon, except for Monday holidays such as Memorial Day and Labor Day, when testing will not occur. Opus observes certain Monday holidays that Vanderbilt does not, such as, so testing will not occur then. Neither Vanderbilt nor Opus observes Columbus Day, so testing will proceed as normal then. The vendor has requested that as far as possible vehicles should be brought in early, so that there is not a sudden rush between 11:30 and noon.
However, please note that for safety reasons, Opus reserves the right not to operate if there is a threat of thunderstorms, or if there is severe winter weather. These decisions sometimes have to be made at the last minute, so it is not always possible to give advance notice.
The testing station will be located at the back end of lot 75A, off Childrens Way, just west of Natchez Trace. Click on the map below for a downloadable version. (If you would prefer a Google Earth view, click here.)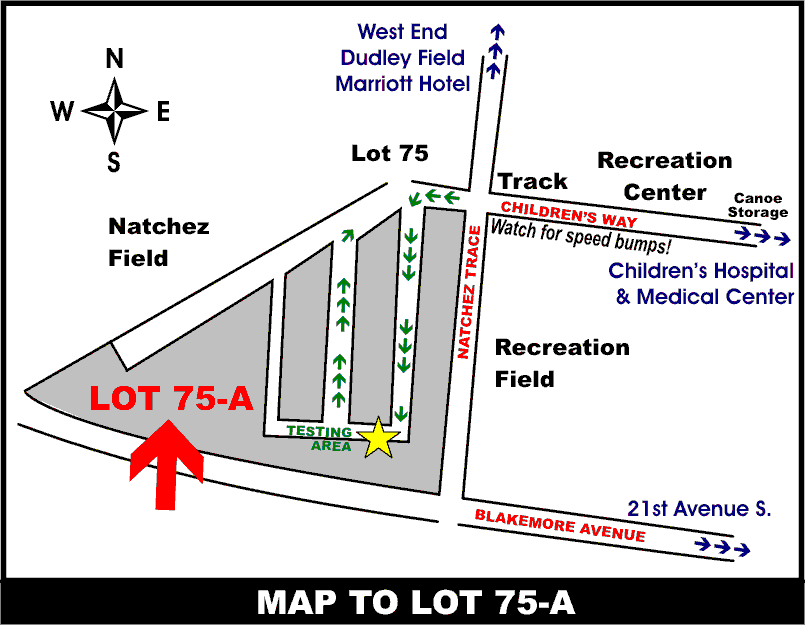 Before the Monday on which the department wishes to test, the responsible person should contact the Vehicle Manager to obtain a coupon for testing. The driver must bring this coupon and present it at the testing location as the coupon covers the cost of the test. Nine dollars, the standard Metro testing fee, will be debited to the department budget. If the coupon is lost, it can only be replaced at the cost of an additional $9 charge. These coupons are the only payment accepted at the mobile testing station. Cash, checks, or pcards cannot be used.
If the vehicle passes inspection, no further action is required. All paperwork is handled by Opus, Supply Chain, and (for Enterprise-leased vehicles) Enterprise Fleet Management. When your new plate or registration sticker is ready, you will be notified.
If the vehicle fails the emissions check, Opus will give the driver a fail notice. Keep this fail notice as it entitles the vehicle to one free re-test. Make whatever repairs are necessary and then bring the vehicle and the fail notice back to the testing location at the next scheduled date to have the vehicle retested.
NOTE ON OVERSIZE VEHICLES - Vehicles over 10,500 lbs. (a bit over 5 tons) are exempt from emissions testing. What this means for our fleet is that shuttle buses and ambulances are generally exempt, but even the largest pickups and vans need to be tested.
---
SERVICE
VERY SMALL MAINTENANCE ITEMS
These can genrally be purchased with the Voyager Fuel card--see the end of the Gasoline section below.
VEHICLES LEASED FROM ENTERPRISE
These units come with provision for routine maintenance at no extra charge. You should have a maintenance card in your glove compartment. Simply take the vehicle to one of the Enterprise-approved shops in the Vanderbilt area--for a PDF list, click here--and present the card.
We very strongly encourage regular maintenance under this plan. It is a service we are already paying for and helps to maintain the resale value of the vehicle. Better resale saves us money at lease-end time!
VEHICLES OWNED OR LEASED FROM OTHER SOURCES
If you already have an established relationship with an off-campus service provider for your vehicle, you may continue to utilize it.
If you don't, you may access service using your Voyager gasoline card. See the end of the Gasoline section below.
---
GASOLINE
We recommend the Voyager Fuel Card program administered by VUMC Procurement. These cards are accepted at multiple locations, including the Mapco at 1507 21st Ave. S., which is convenient to the Medical Center.
If you would like to look into a new Voyager card, please contact the Payment Card team at VUMC Procurement. Please be prepared to furnish the following information:
Vehicle number (cards are tied to vehicles and not individuals);

Department name;

Account and center to charge;

Approximately how many times a day the card will be used;

Dollar limit per month for the card.
SMALL MAINTENANCE ITEMS - things such as washer fluid, wiper blades, etc., are generally available at places like Mapco, and can usually be purchased with the Voyager card.
LARGER MAINTENANCE ITEMS - For larger needs such as tires, oil changes, etc., the Voyager card may be used at many auto service establishments. Here is their locator page, which will allow you to search by zip code for merchants that accept the card and also see what services they offer. (Note--search only in the Fleet (Fuel) Card tab. We are not enrolled in the Voyager Maintenance Solution Program.)
---
Our preferred provider for rental vehicles is Enterprise Holdings, parent company of the National and Enterprise brands. In order to maximize savings and build future volume discount opportunities, Procurement asks that everyone please comply with the following when making car rental reservations.
Please make your reservations through the Concur website. (Keep in mind that like hotel and airfare expenses, rental cars must be paid for with a T&E card and not a p-card.)
Use the National brand whenever possible. The Enterprise brand is to be used only in circumstances when National is not a reasonable option, such as when travel does not require the renter to be at or in an airport.

Reserve only intermediate size (mid-size) vehicles during booking. Upon arrival you can then choose any car from the "Emerald Aisle". The "Emerald Aisle" is stocked with mid-size or larger vehicles when renting with National at airport locations.
If you would like on-campus pickup and dropoff, after making your reservation as shown above, please call our closest Enterprise location on Layfayette St. at (615) 254-6181 to make your request. Please call at least an hour beforehand.
Existing status with Hertz and/or Avis will be the same with National/Enterprise--VUMC customers will get "match" status. If you have any questions regarding your status with N/E contact the Enterprise rental contact below.

Note on mileage reimbursement vs renting: If you are traveling over 100 miles roundtrip, please rent a vehicle according to the instructions above. seme
---
ACQUISITIONS
Our usual preference in acquiring vehicles is to utilize our lease contract with Enterprise. This automatically enrolls the unit in the Enterprise maintenance plan (see Service section above) and saves us from buying an asset which will rapidly depreciate.
However, it is recognized that there may be cases of unusual circumstances and non-standard vehicles which may require other solutions. The Purchasing staff will be happy to work with you to identify the best alternative for your department.
The first step in acquiring a vehicle is to complete the Authorization to Acquire Vehicle form (MC 3673). Route it to the Purchasing contact shown at the bottom of the page.
DISPOSITIONS
Disposing of a vehicle depends upon how it was acquired. Most of our fleet is leased, and will simply be returned to the leasing company at contract's end. If we own the vehicle, there are other alternatives we may consider. Enterprise will accept vehicles to be sent to a public auction, and will remit us the auction price minus their processing fee. If the unit is being replaced by a newer one, a simple trade-in may be appropriate. Special-purpose or modified units may need special handling, and again, the Purchasing staff will be happy to consult with you to identify the best plan.
---
INSURANCE
This is coordinated by VUMC Risk Management under the new VUMC policy.
All vehicles should have updated insurance cards in their glove compartments showing the insured entity as VUMC and the effective dates running with our fiscal year, July 1 to June 30. If you need a new card, please contact the Fleet Manager below.
---
VEHICLE WASHING
We have made arrangements to use Shur-Brite Car Wash, which is very near VUMC, between Broadway and West End (address is 1713 West End).
You will need a wash coupon to present to the attendant there--no appointment is necessary. Coupons are $16 each, debited to the budget associated with the vehicle, and may be obtained from the vehicle manager as with the Opus coupons. Each coupon is good for one general interior and exterior cleaning.
For a PDF map to Shur-Brite, click here.
---
FLEET MGMT. AA
PURCHASING AGENT
INSURANCE MANAGER
ENTERPRISE FLEET MGMT.
ENTERPRISE RENTALS
Lashunda Atkins, ext. 2-3418
Dustin Groves, ext. 2-3692
Theodore (Beau) Baker, ext. 6-0655
Tia Price, (615) 309-9662

Damon Nickson, (615) 373-8743
Emission or car wash coupons,
General questions
Purchase order questions
Insurance Questions
Questions on units leased from or serviced through Enterprise
Car Rental Questions
---